Thursday, September 27, 2012
ART & COPY Trailer
Tuesday, September 25, 2012
Egypt has shown a fast disposition toward mobile phone usage
Egypt has shown a fast disposition toward mobile phone usage—the International Telecommunication Union estimates that there were 83.4 million mobile phone connections in 2011 among a total population of about 82.1 million. But smartphones have made slower progress in penetrating the population. A January–March 2012 survey of individuals in Egypt commissioned by Google as part of their "Our Mobile Planet" study, conducted by third-party research firms, found the smartphone adoption rate to be only about 26%.But those who do have smartphones and other internet-enabled mobile devices have taken quickly to using both the mobile internet and apps, according to an April poll in Egypt conducted by mobile advertising network Plus7. The survey found that more than six in 10 respondents accessed a mobile website or used an app several times a day, while about one in 10 did so at least once a week.Read more at http://www.emarketer.com/Article.aspx?R=1009349#g4clA1Qiq56aLQQE.99

Friday, August 03, 2012
How Syria's video activists use camera phones to fight the revolution - video
Ahmad Mohammad is a Syrian video activist. He uploads smartphone footage of demonstrations, gun battles and casualties to the internet in an attempt to chronicle the crimes of Bashar al-Assad regime and show the world what is happening in Syria. YouTube and Facebook are banned in Syria, but Mohammad uses proxies to gain access to them
Sunday, January 29, 2012
Emirati slang revived with iPhone app Amna Al Haddad
Emirati slang revived with iPhone app
DUBAI //Older Emiratis will tell you a barkhees is unlikely to buy you so much as an aranjous.
That will not mean much to many young Emiratis, as barkhees (miser) and aranjous (orange juice) are old slang terms unique to the Arabic spoken in the UAE.
Realising many such words could soon be lost if not recorded, Faisal Jassim and Thani Al Shafar, both 25, have launched a virtual dictionary of Emirati terminology in Arabic and English.
Their iPhone application Thikrayat (at
www.appthik.co)
collates these words for posterity and often pairs them with illustrations.
The name of the application is an old word meaning things remembered from the past.
"We started by accident," said Mr Al Shafar.
"We were getting to know words through the elderly in the family that we had never heard of before. We realised that we no longer used such words, so we started collecting them."
Mr Jassim said this disconnect between generations was "a tragedy, because these words give flavour to the Emirati dialect".
So far, 100 words have been included and 300 more with illustrations are to be released soon. Among the words that were fading from the language are nomlait, for lemonade; dahdeeha, meaning quick; and pankah, for ceiling fan.
"Our society has been established based on an oral history and our ancestors didn't read and write," Mr Jassim said. "When they pass away, their history and memories will be gone as well.
"If we don't preserve them now, they'll be lost. These words are what gives us a flavour. It's like our saffron, our spices."
Mr Al Shafar said the app was also aimed at engaging expatriates.
"The application can be accessed globally and foreigners can download it before coming to the UAE, and know the language and learn about the UAE culture," he said.
The two also accept feedback and suggestions from the public.
"We want the application to become a community project," said Mr Jassim.
Saturday, December 31, 2011
Saudi government considers banning smartphones for public employees


The Saudi government is considering banning all public employees from using smartphones and tablets, such as iPhones, iPads, and BlackBerry devices, during working hours after receiving complaints from the public, Saudi Gazette has reported. The directors general of three ministries have sent letters to their superiors requesting that they "look into the matter," the daily said, citing a source at the Department of Civil Status. Currently, there are no restrictions on public employees using smartphones and tablets.
Thursday, November 03, 2011
Mobile phone penetration rates in the UAE are the highest in the Arab world, according to the latest report by the Arab Advisors Group.
As at the end of September 2009, the rate for mobile phone users in the UAE stood at 193.5 percent, followed by Saudi Arabia with a rate of 165.5 percent.
The report, which covered 47 mobile operators in 17 Arab countries, also showed that there was a total of 241.3 million cellular subscribers by the end of Q3 2009.
This represented a 16.6 percent growth compared to the 206.9 million subscribers recorded at year-end 2008.
According to the Arab Advisors Group report, MobiNil (Egypt), Vodafone Egypt (Egypt) and STC (Saudi Arabia) were the largest operators in terms of subscriber bases.
MobiNil and Vodafone Egypt boasted 23.4 million and 22.1 million subscribers respectively while STC ended the first nine months of 2009 with 20 million subscribers.
Three new cellular operators launched in the region during the period covered by the report - Zain in Saudi Arabia, Viva (STC) in Kuwait, Vodafone in Qatar.
Smartphones change our habits in China
Smartphones change our habits in China
Updated: 2011-11-01 07:34
By Wei Tian (China Daily)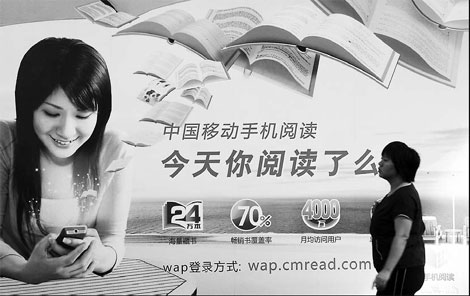 A billboard advertising wap.cmread.com, the website of China Mobile. Itprovides a variety of content for its mobile phone subscribers. WuChanging / For China Daily
Publishers urged to break down novels into smaller segments to capitalize on new trend
BEIJING - Although millions of Chinese people have abandoned traditional books for mobilephone novels as smartphones becomes more popular, paying for what you read is merely anoption for most readers.
Su Chenhui has been a big fan of online novels since his college days but has never paid forany of the hundreds of books in his eight-gigabyte mobile phone memory card.
"There is not really much difference between a pirated version and a legal copy except for alittle delay if you want to get it free," said the 26-year old IT major graduate, adding that piratednovels can be easily reached via links provided by some search engines.
"It's pointless paying for what you can get free. Besides, most of the books are just potboilers. Iwould still pay for valuable content such as research reports, but in most situations when Ineed them I can always get access via an account that has been paid by my university or mycompany."
According to data from the China Internet Network Information Center, the number of mobileInternet users exceeded 303 million by the end of 2010, 30 percent up on the previous year.
The Yearbook of Digital Publishing in China (2010-2011), released by the Chinese Academy ofPress and Publication, showed that the total revenue of the digital publishing industry hasgrown from 21.3 billion yuan ($3.3 billion) in 2006 to 105 billion yuan in 2011.
Hao Zhensheng, the academy's director, said the emergence of micro blogs and tabletcomputers has created unexpected new opportunities for the industry.
However, despite all the optimism, a report by the market research company AnalysysInternational shows that only 21 percent of users surveyed are willing to pay for a newspaperon their mobile phones, although more than half said it's what they read most frequently.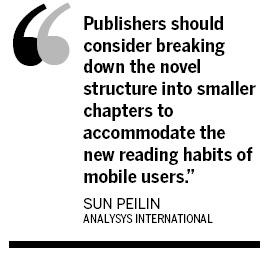 Despite the findings, newspapers are the most likelyto make a profit among mobile phone readers.Other popular content such as novels, magazinesand cartoons all have less than one fifth of readerswho are potential payers.
More than a quarter of the people said they are notwilling to pay to read anything at all on mobilephones, and that group is still growing, AnalysysInternational's report said.
The report attributes the main reason for a shrinkingwillingness to pay to the easy access to readablecontent using smartphones, which lowers thethreshold for getting free information throughInternet access.
"Lack of quality content is also a reason for the poor financial performance of the mobilereading market," the report said, citing the fact that and only 8 percent of the readers saythey'll pay for literature.
"Publishers are still cautious in terms of putting their quality articles into mobile circulationbecause of the intellectual property problem. The problem of piracy remains very muchunsolved," the report said.
Traditional literature, serious and sophisticated as it is, is not really suitable for reading onmobile devices in short bursts. People would rather just buy books directly, it said.
With classical works fading away, social and lifestyle information are quickly taking up thescreens.
According to the report, choosing traditional literature for "frequent reading" has dropped from56 percent to less than 40 percent. Meanwhile, the percentage for social networks and blogshas doubled.
Sun Peilin, analyst and compiler of the report, said shortness in length and high interaction arethe two reasons why social networking sites have overtaken literature as the first choice forreaders.
"Mostly, when people read on their mobile phones, it's either at bedtime, waiting in line, or onpublic transport. In other words, in fragmented time," Sun said.
"Publishers should consider breaking down the novel structure into smaller chapters toaccommodate the new reading habits of mobile users."
The survey also listed the most popular literary websites in China, among which China Mobile'swap.cmread.com topped the list. Nearly 30 percent of those surveyed said they have visitedthe site.
The most popular book on wap.cmread.com has been clicked on 900 million times, and themost profitable novel has already made 12 million yuan.
"Mobile reading combined with the operator's binding service and vast client base are the keyfactors to the fast growth of the business," Sun said, adding that many of the reading servicesare paid monthly and are free of flow rate fees.
Online novels have not yet contributed to publishers' profits, but there is still the opportunity forthem to do so, said Liu Fang, chief executive officer of a digital publisher under the ChinaWriters Association.
"Some readers buy the physical book after they've read the digital version," Liu said. "Somobile reading does not really damage businesses but increases the size of a readershipgroup instead."
Having realized digital publishing is already an inevitability, many traditional publishers havebeen establishing a digital division over the past year, Liu said.
"When publishers unleash more of their quality content next year, mobile reading will see areal boom," he said.
China Daily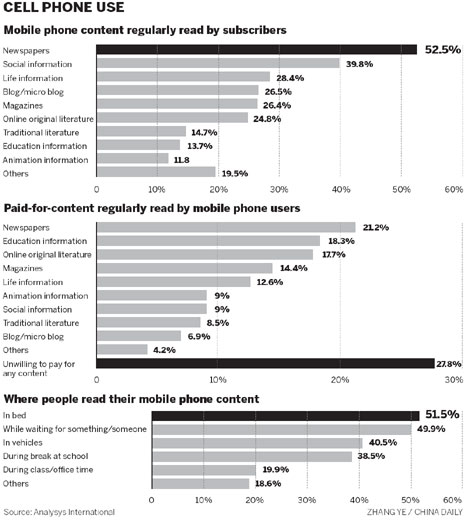 (China Daily 11/01/2011 page14)
Monday, August 22, 2011
From SMS to Smartphones:

Tracing the Impact and Developmental Trajectory of the Mobile Phone in Asia
13-14 February 2012, National University of Singapore

Asia is widely regarded as a region that has enthusiastically embraced information technology. This observation is especially true of the region's adoption and appropriation of the mobile phone. The affordability, versatility and ubiquity of the mobile phone has had a discernible impact on Asia. Despite the significance of mobile phones in the Asian landscape, research on this topic has been shaped by studies on the US and Scandinavia, while research on Asia is growing, but in its nascent stages. This workshop seeks to address the imbalance by bringing together researchers who are studying mobile phone trends in Asia and collectively, workshop participants will discuss and deliberate over the global implications of their research findings and the developmental trajectory of the mobile phone. The workshop will be held at the Department of Communications and New Media, National University of Singapore from 13-14 February 2012.

The workshop aims to be multi-disciplinary, comprising up to fifteen speakers who will have the opportunity for sustained discussion and engagement over two days. Based on the quality of proposals and the availability of funds, partial or full funding is available for successful applicants. Full funding would cover air travel to Singapore by the most economical means, plus board and lodging for the duration of the workshop. Priority for funding will be accorded to applicants who are based in Asia. We invite those interested in participating in the workshop to submit original paper proposals which should include a title, an abstract of 500 words, a short biography of 250 words by 15 September 2011. Papers that have been selected will be notified by 30 September 2011. If accepted, the full paper must be submitted by 30 November 2011. Selected papers will be developed and included in a special journal issue or edited volume. Please see the workshop website<http://blog.nus.edu.s
g/cnmblog/2011/08/16/call-for-papers-for-workshop-from-sms-to-smartphones-tracing-the-impact-and-developmental-trajectory-of-the-mobile-phone-in-asia/> for submission details.

Set within the Asian context, the workshop seeks to address questions including, but not limited to the following:
*

does a digital divide exist in Asia with regard to mobile phone penetration and usage trends and if so, how can and should they be remedied?
* what are the implications of the development of mobiles - especially smartphones and mobile Internet - for contemporary media in Asia?
* how is the growing proliferation of the smartphone facilitating unprecedented forms and scales of communication?
* how are the location based services offered by smartphones altering user behaviour?
* how does mobile Internet use complement and possibly complicate fixed location Internet use?
* what implications does the growth of smartphone apps have for the cultural complexion of Asian countries?
* to what extent do smartphones and the behaviour which they enable test the boundaries of existing regulatory frameworks?
* how does the rising ubiquity of the smartphone and by implication, that of always-on, always-available Internet access challenge prevailing theoretical frameworks relating to inter alia, technology acceptance, mobility, communication, social influence and identity?

Workshop Convenors

Associate Professor Sun Sun LIM (sunlim@nus.edu.sgsunlim@nus.edu.sg>)
Department of Communications and New Media, National University of Singapore
Prof Gerard GOGGIN (ggoggin@usyd.edu.auggoggin@usyd.edu.au>)
Department of Communications, University of Sydney